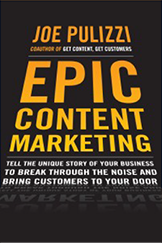 THE NEW BOOK BY JOE PULIZZI
EPIC
CONTENT MARKETING
HOW TO TELL A DIFFERENT STORY, BREAK THROUGH THE CLUTTER, AND WIN MORE CUSTOMERS BY MARKETING LESS. No longer can we interrupt our customers with mediocre content (and sales messages) our customers don't care about. One of the world's leading experts on content marketing, Joe Pulizzi, explains how to draw prospects and customers in by creating information and content they actually want to engage with. This groundbreaking guide gives you all the tools to start creating and disseminating content that leads directly to greater profits and growth.

Epic Content Marketing Reviews
"This is a brilliant canter through the rapid and ever changing world of content marketing." -JONATHAN MILDENHALL, VP of Global Advertising Strategy and Creative Excellence at Coca-Cola
"As Joe shows us in his wonderful Epic Content Marketing, you must unlearn interrupting people with your nonsense. Instead, publish the valuable content they want to consume and are eager to share." -DAVID MEERMAN SCOTT, bestselling author of The New Rules of Marketing and PR.
"Joe Pulizzi may know more about content marketing than any person alive. He proves it in these pages." -JAY BAER, NYT Best-Selling Author of Youtility
"Listen to this guy. He really understands the new world of marketing." -DON SCHULTZ, Professor Emeritus at Northwestern University's Medill School of Journalism
"For those organizations struggling to create a content marketing program that drives results, Joe delivers. Again." -ANN HANDLEY, Chief Content Officer, MarketingProfs
"If you truly want to be successful at content marketing, Pulizzi is one of the few who can show you the way." -MITCH JOEL, President Twist Image
"Joe Pulizzi is the godfather of our burgeoning profession of Content Marketing. He lays out the objectives, principles and core strategies of our field in a way that's easy-to-understand, inspiring and entertaining." -JULIE FLEISCHER, Director, Media & Consumer Engagement at Kraft Foods
"Joe Pulizzi has made me a content believer!" -KATHERINE BUTTON BELL, Vice President & Chief Marketing Officer Emerson
"Epic Content Marketing gives all the details practitioners need without over-complicating." -PROFESSOR JOANN SCIARRINO, Knight Chair, Digital Advertising and Marketing, UNC Chapel Hill
Free Chapter
Speaking & Advisory
Joe Pulizzi is one of the leading speakers in the world on content marketing delivering hundreds of keynote presentations to marketers, publishers and journalists around the world. He discusses how businesses and brands are achieving real marketing objectives by creating compelling, relevant and consistent content. Joe has spoken to audiences around the globe, including more than half the states in the US, Canada, Germany, Finland, Belgium, The Netherlands, Poland and more.
CLICK HERE FOR MORE INFORMATION
About Joe Pulizzi
Joe Pulizzi is the original content marketing evangelist, and started using the term "content marketing" back in 2001. He's the founder of the
Content Marketing Institute
(CMI), the leading content marketing educational resource for enterprise brands, recognized as the 468th fastest growing private company by Inc. magazine in 2013. CMI produces the largest in-person content marketing event in the world,
Content Marketing World
, held every September in Cleveland, Ohio, which has been attended by half the Fortune 50. He has spoken at more than 200 locations and 10 countries around the world advancing the practice of content marketing. He's also co-written two other books: "Get Content Get Customers" as well as "Managing Content Marketing." Find him online at
JoePulizzi.com
or on Twitter
@JoePulizzi
. If you ever meet him in person, he'll be wearing the color orange.
Contact Joe