JOE'S BIO:
Joe Pulizzi is the original content marketing evangelist, and started using the term "content marketing" back in 2001. He's the founder of the Content Marketing Institute (CMI), the leading content marketing educational resource for enterprise brands, recognized as the 468th fastest growing private company by Inc. magazine in 2013. CMI produces the largest in-person content marketing event in the world, Content Marketing World, held every September in Cleveland, Ohio, which has been attended by half the Fortune 50.  He has spoken at more than 200 locations and 10 countries around the world advancing the practice of content marketing. He's also co-written two other books: "Get Content Get Customers" as well as "Managing Content Marketing."
Find him online at JoePulizzi.com or on Twitter @JoePulizzi. If you ever meet him in person, he'll be wearing the color orange.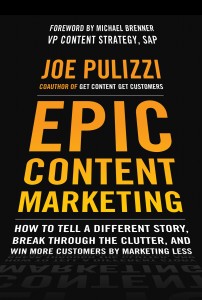 BOOK BASICS:
Name: Epic Content Marketing: How to Tell a Different Story, Break through the Clutter, & Win More Customers by Marketing Less
Publisher: McGraw-Hill; 1 edition (September 27, 2013)
Language: English
ISBN-10:0071819894
ISBN-13:978-0071819893
---
Q & A WITH JOE PULIZZI
WHAT IS EPIC CONTENT MARKETING?  WHY IS IT SO IMPORTANT?
Joe: Epic Content Marketing is all about developing marketing information that is so remarkable and compelling that your customers and prospects see you as the go-to resource. When an organization publishes epic content over a sustained period of time, prospects become customers and customers reward the brand with increased loyalty.
Basically, instead of marketing in a traditional manner, organizations start to look more like publishers.  This is critical for the future of marketing, as consumers are in complete control of how they buy.  They can ignore our advertising at will.  How do we get them to pay attention to us? By delivering information so helpful that, to the buyer, it doesn't seem like marketing at all.
WHAT ARE SOME EXAMPLES OF COMPANIES CREATING EPIC CONTENT?
Joe: There are so many.  American Express publishes Open Forum, which is the go-to resource for small businesses.  Adobe publishes CMO.com, which is a truly helpful site for senior marketing executives. Denmark's Jyske Bank is the one bank on the planet that is a media company first.  Red Bull has approximately 5 million subscribers to its print and digital magazine, The Red Bulletin.
And small companies can publish epic content as well.  River Pools and Spas out of Virginia went from fifth in their market to selling more fiberglass pools than any pool company in the United States by developing a truly epic blog.
HOW DO COMPANIES & BUSINESSES GET STARTED CREATING THEIR OWN EPIC CONTENT?
Joe:  Almost all companies do some form of content marketing, but nearly all of them do it without a documented content strategy.  Epic content marketing starts with a plan around the informational pain points of your customers.  The starting point? A content marketing mission statement that will drive the entire strategy.
HOW DO YOU GET EXECUTIVES, BUSINESS OWNERS TO BUY IN TO THE IDEA OF CONTENT MARKETING?
Joe: Just like a television show starts with a pilot, so can your content marketing program.  By developing defined and agreed upon objectives, and going through the steps to build your epic content marketing program, the pilot can work in any-sized organization.
HOW DO YOU FIND ENOUGH CONTENT/STORIES TO SUPPORT A CONTENT MARKETING STRATEGY?
Joe:  Just about every company has enough content…it's just that the content is not in storytelling form.  By going through a defined process of the content audit, and then discovering where stories are happening in the organization, a brand can build a scalable storytelling model with the internal resources available.
OKAY, SOME PEOPLE MIGHT ASK, "WHY IN THE WORLD WOULD I GIVE AWAY ALL OUR KNOWLEDGE FOR FREE?"
Joe: You give your content away so that you can ultimately sell more of your own products and services, and help to move the buyer through their own buyer's journey. Traditional publishers make money directly from their content (through paid subscriptions and advertising).  You will make more money by generating more revenues.  Ultimately, the only thing that differentiates you from media companies is how the money comes in the door.
WHAT IS THE BIGGEST REASON WHY CONTENT MARKETING INITIATIVES FAIL?
Joe:  Content marketing programs fail primarily for two reasons.  One, they stop them and two, they lack a defined plan.
WHAT IS THE FUTURE OF CONTENT MARKETING?  WHAT TRENDS SHOULD WE BE LOOKING FOR?
Joe: Today's marketing departments are looking and feeling more like mini-publishing companies.  With our customers bombarded with over 5,000 marketing messages a day, why should they spend any time looking at us?  To get attention, we need to be providing them information that helps them with their lives or their careers.  That's what Epic Content Marketing is all about.
Contacts:
For press inquires:  Email Amanda Subler  at Amanda [at] zsquaredmedia.com
For details on hiring Joe to speak at an event: Email Pam Kozelka at Pam [at] zsquaredmedia.com.
For more on how Joe and the Content Marketing Institute can help your business click here.